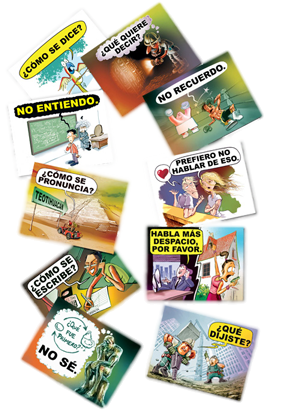 Spanish ConverseMore Posters
---
Spanish ConverseMore Posters
10 Captivating Cartoons
by POL (Pablo Ortega López) and Cathy Díaz
Keep the conversation clear and flowing with these 10 awesomely amusing and effective memory aids in full color. Great to use with Cuéntame: 286 Spanish Conversation Cards and all the time. Each is 9.75" x 13" inches and laminated to last.
¿Cómo se dice?
¿Qué quiere decir?
No entiendo
No recuerdo
¿Cómo se pronuncia?
5 more useful phrases
isbn 9781603720656
---
Share this Product
Soy yo la mosca
🪰 I love this book for a million reasons. First the protagonist is a character you cannot help but adore. This makes you look at flies a little different. Second, the book is written in comprehensible Spanish for novice learners using high frequency words. The author creatively embeds common sayings into the plot of the story so while the story is accesible to novice students, it is also rich in culturally appropriate language. Third, the story is compelling! I would recommend this book to any comprehension based communicate language teacher seeking to uplift and empower their students.