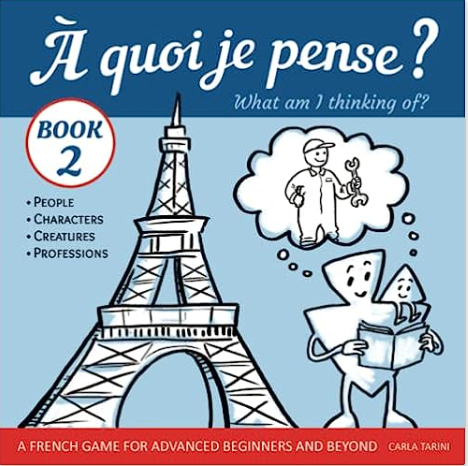 À quoi je pense? #2 (French), by Carla Tarini
---
READ MORE RIDDLES AND KEEP BOOSTING YOUR FRENCH SKILLS QUICKLY WITH 
BOOK #2
 IN THIS SERIES!
À quoi je pense ? / What am I thinking of? 
is a popular guessing game that teases the brain. This seven-book series presents descriptions of over 200 nouns, each one written a bit like a riddle. Line by line, clue by clue, you will piece together a picture of who or what is being described. Written in easy-to-understand, present-tense French, 
the new riddles in book 2
 will keep you guessing, having fun, and absorbing the language naturally.
To further your learning, each riddle is followed by a variety of open-ended questions which can be answered aloud or in writing. In addition, there is a diverse collection of full-page images, 
all new for book 2
, which offer inspiration for writing your<
---
Share this Product